In all my years as an accredited Chartered Life Underwriter*, I've been through seven recessions. And while this one is very, very different in some respects, it's already showing many similarities to all seven I've had the good fortune to live through.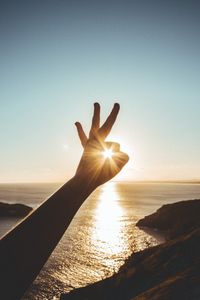 Look, this COVID thing is anything but fun, and if you or someone close to you has been personally affected, then it's downright terrible. But I say 'good fortune' because each recession has taught me a very valuable life lesson, and each one has helped me make at least one positive change in my life. 
What's more, I've often been able to help my clients take advantage of the kind of financial opportunity that always seems to show up just when things are most chaotic and uncertain. In fact, it's times like that that prove the need and validity for insurance and my approach for serving clients like you. 
But that's not what this letter today is about... Today, I'd like to focus on the life lessons I've learned and the positive changes I've made. Maybe you've made similar changes? 
Already, my family is closer than we've ever been. We talk more at the dinner table, (instead of watching television), we walk more and have discovered new things in our own neighbourhood, and we are prouder than ever to live in a country where we actually care about each other and have the support systems to show it, (unlike you know who). 
I truly believe we will get through this. We will come out the other side, possibly stronger and smarter than ever. And, perhaps most importantly, we reinforce our relationships with the people who matter most to us – and find out how we can help, sometimes in ways that go well beyond the typical client advisor relationship. 
Like the time I helped a client move… or the time I helped a client sell her house… or the time I facilitated a difficult family discussion… THAT is what this letter is really about. 
Over the next few months I am going to do my best to call each and every client. It make take a while, so it would make me even happier if you call me first. Here's my number: (905) 477-8029 x239 
Sincerely, 
Cindy Bowden, CLU, CH.F.C.